So as im on reserve today, i thought i would write my second blog entry, and give some background as to what i was flying before i started my current job. I was based up at Kununurra, which is located in North Western Australia. It sits about 30km from the Northern Territory border and is about an hours flight in a jet from Darwin.
I worked up in Kununurra for just under 6 months. The work was mainly scenic flights to Purnululu National Park which is home to the world heritage listed "Bungle Bungles." This job was a good first job and offered lots of command hours and was relatively simply flying. Although learing the tourist spiel was challenging at first, it became very easy after repeating it well over 150 times. It soon became the most annoying part of the flight!

The planes we flew for the scenics were the Cessna 207's and the Gippsland Aeronautics Airvan (GA8). I only flew the airvans. They hold 7 passengers with min fuel, and are very easy to fly, however quite slow in the cruise, and horrible in the bumps.

Here are two pictures of the airvan. WOS was a new airvan delivered the first day i started working at the company. It was IFR rated and was a little bit faster than the older airvans.

Kununurra airport, despite being a CTAF, was quite busy with lots of GA movements and a variety of jets and turboprops. Most of the jets (F100 and E170) came from either Darwin, Broome or Perth. The turboprops (E120) operated the 50nm leg to Argyle Diamond mine and sometimes up to Darwin.


This is the morning arrival from Darwin, which continues onto Broome in WA and then back to Kununurra. The C206 in the foreground is one of our mechanics station plane which his father flew from Kununurra to their farming property.
So a typical day consisted of an early morning scenic and a mid morning scenic. Each scenic lasted around 2 hours and 15 minutes. This was the round trip from Kununurra to the Bungle Bungles. We covered a lot of scenery in this time and we tried our best to be informative and give value for money.
Punters aboard my aeroplane. They wear headsets and have a running commentary either spoken by me or by a tape which some planes had. By the end of 6 months i had the tape memorized! The next photo shows us flying over Lake Argyle which is Australia's largest man made lake, and is around 54 times bigger than Sydney Harbour in the wet season.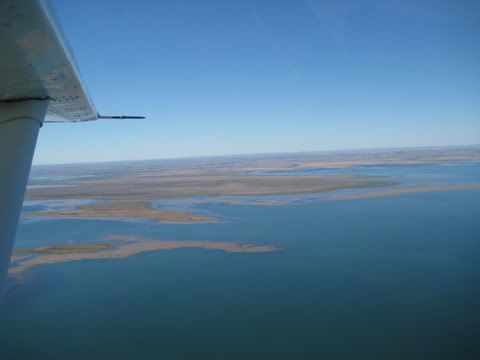 Flying south of Lake Argyle we came to the Bow River diamond mine. This is an abandoned mine since 1995 due to Aboriginal land negotiations.
Flying further south we eventually arrived at the Bungle Bungles. The picture below shows the Northeast tip of the Bungles looking south. The flat land you can see in the distance is the Tanami Desert.


Besides doing scenics, we also used to do a lot of charters to some of the remote communities. I have a few photos from various charters. The first charter i did was to Port Keats, or commonly referred to as Wadeye. Wadeye is in between Darwin and Kununurra, and is one of the largest communities with a population of around 1000 people.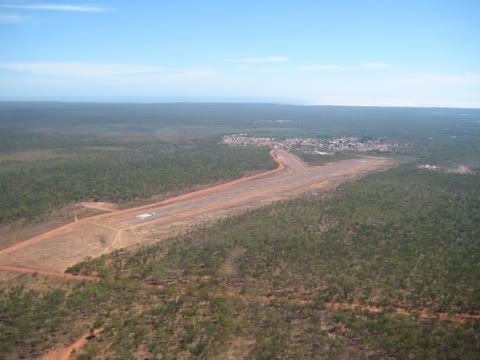 This picture shows the Wadeye community and airstrip. This airstip is serviced by Fairchild Metros that come from Darwin, so it has a fairly good runway.
Another charter that comes to mind was to a community called Mulan. I had to drop off some school kids returning from a holiday in Darwin and met them at the Airnorth terminal in Kununurra. Mulan is way down in the Tanami desert, and it required me to fly directly over Wolf Creek meteor. Wolf Creek is significant due to the movie (a thriller movie based on backpacker murders that have taken place in Australia) that was filmed there. Here is a photo of Wolf Creek Meteor from 9500ft and Mulan Airstrip.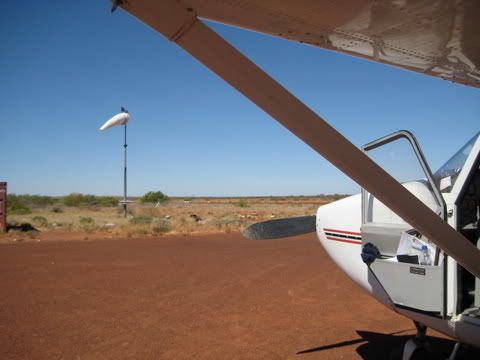 After dropping my pax off at Mulan, i had to return to Kununurra with a refuelling stop in Halls Creek. About 10 minutes after takeoff i had a GPS failure in the airvan. It was definately a good thing i had the relevant aeronautic charts and had used maps for navigation semi recently. I eventually arrived at Halls Creek, with a cessna conquest behind me and a TB20 landing on the cross strip just before me. It was a good experience to say the least and happily after i shutdown and refuelled the GPS started working normally again. Who knows what the problem was, i was just lucky i had good visibility.

I departed Halls Creek and flew back to Kununurra. I snapped this picture of Halls Creek as i took off. I remember being frantic thinking i had left the fuel card at the bowser, but alas found it shortly after considering about the possibility of turning around to check.
Thanks for reading!